Standards
This post first appeared on Hack Education on November 26, 2013. Part 3 of my Top 10 Ed-Tech Trends of 2013 series.
The Politics of the Common Core
The "edit history" and "talk" pages of Wikipedia entries can be pretty interesting, particularly when it comes to controversial topics. The entry for the "Common Core State Standards Initiative" is a great example of this. The Common Core isn't new (the standards were released in 2010); nor is the entry (it was created in 2010 as well). But this year, there's been a vast uptick in the number of changes to that entry, and discussion about its content and tone. 26 edits in 2010. 65 in 2011. 40 in 2012. 127 up through November of this year.
Why the increased attention?
In part because assessments associated with the Common Core, which is designed to provide a single set of standards for K–12 in language arts and math across the US, will first be available in 2014. 45 states have adopted the Common Core, and there are two consortia preparing these assessments – the Smarter Balanced Assessment Consortium and PARCC – with states participating in one or another or neither. Both of these testing groups promise "next generation assessments": computer-based, "computer-enhanced," computer-scored, and adaptive.
In some ways, that the Common Core has become a furiously edited Wikipedia entry is symptomatic of the current state of education politics. The Common Core is part of a larger push for accountability in schools, for example, whereby teachers' and schools' ratings are tied to students' performance on tests. The Common Core is also part of a push for tougher standards and an effort to graduate all students "career and college ready." It's backed by businesses (Exxon and GE have been vocal in their support, as has the Chamber of Commerce). Despite its origins at the state level (originally sponsored by the National Governors Association and the Council of Chief State School Officers), the Common Core is also seen has being a federal initiative, partly because the Obama Administration's Race to the Top initiative, a grant competition, demanded states adopt tougher standards, as did NCLB waivers.
All this has meant a growing suspicion, if not hostility, to the Common Core this year – that's caught up in distrust of the Department of Education, Arne Duncan, and President Obama; that's worried about a mono-maniacal focus on standardized test scores; that's opposed to standardization of curriculum; that's unhappy about corporate influence and profit-motives in education; that's skeptical that the standards – even if they are more rigorous – will actually do much to improve education.
And this has played out in federal, state, and local politics. In April, Senator Chuck Grassley (R-Iowa) sought to eliminate Department of Education that was used to develop or implement the Common Core. In June, Pennsylvania threatened to drop out of PARCC. In July, Georgia, Oklahoma, and Indiana said they were pulling out. In September, Florida governor Rick Scott indicated that state would also end its participation in the testing consortia. Despite former Florida governor Jeb Bush's strong support for the Common Core, Senator Marco Rubio (R-Florida) stated his opposition to the standards too, calling them a coercive attempt to create a national curriculum. In November, Massachusetts said that it would move slowly with a two-year rollout of Common Core related testing. Louisiana said it was moving even more slowly, setting a 10-year timeline. And in response to all the controversy, Arizona governor Jan Brewer ordered her state agencies to stop using the phrase "Common Core." The standards remain in place in the state, just under a different name.
The Common Core and testing were unsettling to teachers and parents, not just politicians. In August, New York released students scores on tests aligned to the tougher standards. The results: just 31% of students passed the exams in reading and math, compared with 55% in reading and 65% in math last year. Wyoming, which also aligned its tests with the Common Core, also experienced a drop in scores. The justification by officials: older tests and standards had been overstating student achievement. And perhaps that's true.
But it still doesn't make this statement by Arne Duncan in November terribly wise: that growing opposition to the Common Core comes from ""white suburban moms who — all of a sudden — their child isn't as brilliant as they thought they were, and their school isn't quite as good as they thought they were."
Over the summer months, polls from the Associated Press and Gallup found Americans really weren't that familiar or concerned about the Common Core. You have to wonder if Duncan's headline-making statement has changed that. It's likely it fueled the "corespiracy."
The Corespiracy
Ken M. Libby, a PhD student at UC Boulder, has been tracking (and tweeting about) what he's dubbed the "corespiracy" – that is, videos and articles that tie together an anti-Common Core message with conspiracy theories about the intentions of the Obama Administration. His tongue-in-cheek "Guide to Writing Right-Wing, Anti-Common Core Articles and Blog Posts" includes a couple of key pointers and themes that run throughout the "corespiracy": that it's a UN takeover; that it's a Marxist plot; that it's a Nazi plot; that it's pro-Islamic terrorist; and so on.

This isn't to say that the opposition to the Common Core comes solely from the Tea Party and their ilk, of course. This isn't to say that there aren't valid concerns about the Common Core initiative. But the concerns that make headlines aren't always about the major thrust of the Common Core; sometimes they're about the fine print.
One example: that the Common Core will mean the end of teaching cursive as the emphasis moves instead to teaching keyboarding - so as to help students better cope with the future work world, as well of course, to the upcoming computer-based assessments.
Again, this aspect of the Common Core isn't new. Handwringing about the demise of handwriting isn't new either. Some argue that cursive offers psychological benefits. Some argue it connects students to the past.
This year legislators in North Carolina passed legislation to make sure that students in the state were still taught cursive. California, Georgia, Idaho, South Carolina, Indiana, and Massachusetts have weighed similar bills.
But as USC education professor Morgan Polikoff counters, "Cursive should be allowed to die. In fact, it's already dying, despite having been taught for decades. Very small proportions of adults use cursive for their day-to-day writing. Much of our communication is done on a keyboard, and the rest is done with print."
So if we stop writing and cursive and all of Western civilization collapses – you know, because future generations can't read original manuscripts like The Declaration of Independence – we know who to blame: Obama.
Common Core and Ed-Tech
USA Gold pencils – maker of what has long been the premiere education technology, the Number 2 pencil – said that its survey found that "89% of Americans believe it is still necessary to practice reading and writing in cursive."
But sorry, pencil manufacturers. Computers are what schools are buying, along with software, textbooks, and assessments that are "Common Core-aligned." I'll look more closely at educational hardware adoption in a subsequent "trends" post, but it's worth quoting education historian Larry Cuban here, I think, as we consider how the Common Core has influenced (and will continue to influence) technology procurement this year:
The best (and most recent) gift to the hardware and software industry has been the Common Core standards and assessments. At a time of fiscal retrenchment in school districts across the country when schools are being closed and teachers are let go, many districts have found the funds to go on shopping sprees to get ready for the Common Core.

And here is the point that I want to make. The old reasons for buying technology have been shunted aside for a sparkling new one. Consider that for the past three decades the rationale for buying desktop computers, laptops, and now tablets has been three-fold:




Make schools more efficient and productive so that students learn more, faster, and better than they had before.
Transform teaching and learning into an engaging and active process connected to real life.
Prepare the current generation of young people for the future workplace.

After three decades of rhetoric and research, teachers, principals, students, and vendors have their favorite tales to prove that these reasons have been achieved. But for those who want more than Gee Whiz stories, who seek a reliable body of evidence that shows students learning more, faster, and better, that shows teaching and learning to have been transformed, that using these devices have prepared the current generations for actual jobs—well, that body of evidence is missing for each of these traditional reasons to buy computers.




With Common Core standards adopted, the rationale for getting devices has shifted. No longer does it matter whether there is sufficient evidence to make huge expenditures on new technologies. Now, what matters are the practical problems of being technologically ready for the new standards and tests in 2014–2015: getting more hardware, software, additional bandwidth, technical assistance, professional development for teachers, and time in the school day to let students practice taking tests.
And there are plenty of practical problems. Computer-based testing systems in Indiana, Kentucky, Minnesota, and Oklahoma suffered glitches this spring. There are concerns that many schools do not have the hardware or the bandwidth and that many students do not have adequate technical skills for computer-based testing. But the technological pressures of the Common Core are mounting as the 2014 school year approaches.
So will, as some have predicted, the new standards be a boon to the education technology industry? No doubt, established companies and startups have been quick to offer new Common Core-related products. With multi-million dollar contracts at stake, PARCC and Smarter Balanced have sought vendors to build various aspects of their tech infrastructure. (Winners so far include Rupert Murdoch's News Corp.) And some companies, such as MetaMetrics whose Lexiles reading level scores were criticized in a recent New Republic article, find their products and services hard-coded into the standards. Not surprisingly, the College Board (whose new president David Coleman was the architect of the Common Core) says it plans to design new tests aligned to the new standards too.
And, with a nod to the first post in this series on "zombie ideas," the Common Core has even meant a return of an old, familiar but controversial figure in education: "A generation after he was squarely pummeled as elitist, antiquated and narrow-minded," writes The New York Times, "the education theorist E. D. Hirsch Jr. is being dragged back into the ring at the age of 85 — this time for a chance at redemption." He has a curriculum to sell you...
The Proliferation of Standards
The Common Core State Standards weren't the only standards proposed or debated this year. The Next Generation Science Standards were released this spring. Mozilla's Web Literacy Standards were released this fall. (I'll examine the contents of the latter in more detail when I turn to the "learn-to-code" trend next week.)
New standards, my how they proliferate. And new standards – even those determined by the wisest among us – are so often fraught, particularly when they're forced upon people, particularly when they arise not from consensus or convention, particularly when they prescribe rather than describe how things work.
When I think of "standards," even with all the Common Core brouhaha this year, it's still Randall Munroe's xkcd comic that comes to mind.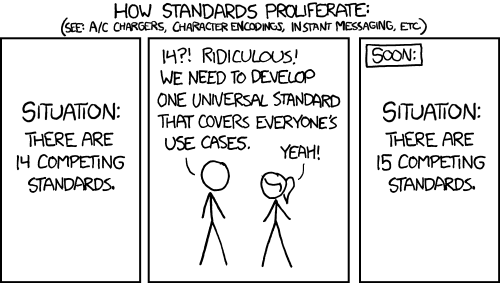 Despite our best efforts to categorize then decree one standard for everyone to adopt, we often find ourselves instead with just another standard that most will ignore. Unless you're required by law to adopt it, of course.